Access
Swansfield Stables was built within an old quarry and the surrounding ground conditions can provide a challenge for people with mobility difficulties.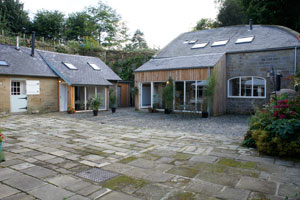 The main drive access to the courtyard is steep and gravelled and the yard itself is a mixture of cobbles and flagstones. We would obviously allow cars to pick up and drop off into the yard when required. Main access to the garden is by metal stairs and stone and wood steps though it can be reached a longer way round up a hardcore path.
We have tried to design the Studio to provide easier access for people with mobility difficulties. It has a step free and wide door, a ground floor sofa bed and a large bathroom and shower. The Cart Shed has a step up and and a small downstairs toilet and washbasin. There is a lot of space on the ground floor and again, a sofa bed for people unable to use stairs. Both properties are wooden floored.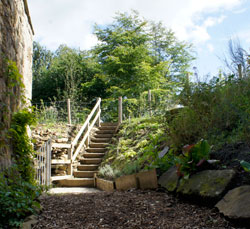 Neither of the properties can offer full disabled access but we will do whatever we can to welcome guests of all abilities.
We ask that you call us first if you wish to discuss any particular needs you may have.

Dogs
Up to two well behaved dogs are welcome but we would ask that they be kept off the furniture and please remember that we do live with a cat and free ranging ducks and chickens!
The utility room

All guests have use of a separate, shared utility room with a sink and washing machines – drying racks are available.
Parking
There is a secure space for bikes. Cars can unload in the courtyard but we ask that you then park in the designated car-parking space at the front of the main house.
The garden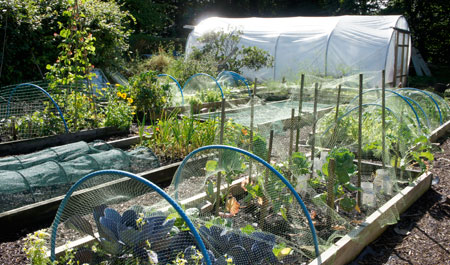 We have a working vegetable and fruit garden, a polytunnel, an orchard and woodland area, all open for guests to explore and we can offer fruit and veg and eggs for sale when available. Children are very welcome at Swansfield Stables though we must point out that some of the woodland is quite wild and though fenced off, the pond is deep. Young children, especially, do need to be supervised when in the garden to avoid accidents.